Residential services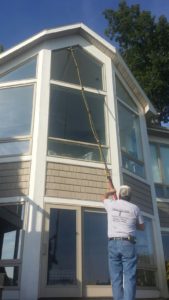 Glass cleaning and restoration. We offer window cleaning in warm weather months, April through November. Inside and outside windows are NO problem. We will leave your windows clean and streak free.  J.W. Services uses only the best PROFESSIONAL grade cleaning and agents.  Our process gives the absolute best value for your money. No one else can achieve the results and lasting effect that we produce. Besides traditional methods, we also utilize a water fed pole system. We NEVER use dish soap, which leaves a residue that attracts dirt FASTER.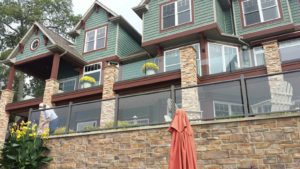 Besides window cleaning (which is the core of our business), we also offer the following services: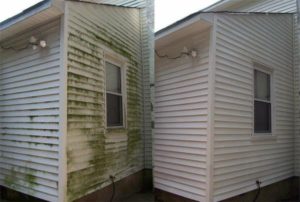 House washing:
Yes, it's true. Our houses can look pretty bad, given the environment we have. Humidity plays a key factor in the growth of mold and mildew. Most homes have this on the north side, but other factors can also give is this problem on other sides of the houses too. We can make your home SPARKLE again. Just ask us how!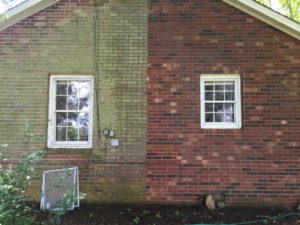 Even brick, as tough as it is, can fall prey to it. We can clean that up and make it look good again too!


Got a deck or fence, that is looking mid-evil? Why not have us refresh it?
We would be delighted to get your fences and decks looking beautiful again. We even can seal/stain them for you.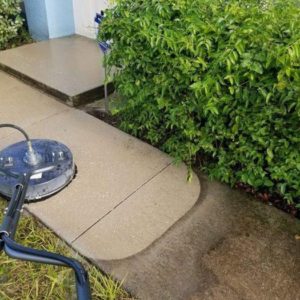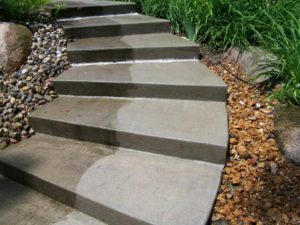 Got a side walk or steps that are looking a little wrecked? We can fix that!
Not only do we clean concrete, we can seal it for you too.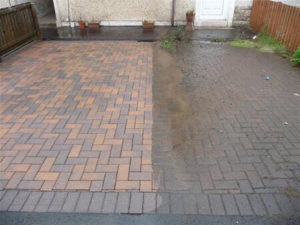 Got a drive you don't recognize? We can restore it!
Brick or concrete, we love making it look SO good.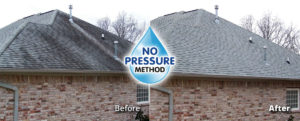 Got a roof that looks like it's covered in soot? Yes, we clean them too!
Black streaks are common, across the country. We can clean them and help extend the life of your shingles.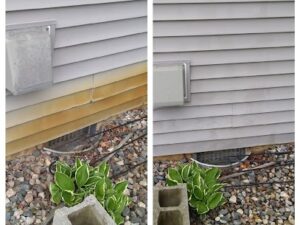 Got RUST?!
Yes, it's a common problem in our area. Irrigation rust, like this example, to just about anywhere from about anything! We unfortunately live in a hard water area of the US. So anytime you have water dripping over something, you are bound to end up with ugly RUST STAINS. However, all is NOT lost. We have a VERY high success rate removing rust staining from most surfaces. Want the "ugly" gone? Better call a Pro, like us, J.W. Services. Rust stain removal is one of our specialties.
Looking to sell your home in Steuben County? You might want to consider these services. Having your home sparkling clean, certainly will help sell it for the price you are looking for. Think how you would see it, if you were looking to buy a home that the roof had streaks, the fence was looking really old, or the side walk/driveway was looking in need of "Help", all black and streaky, and the siding that is supposed to be white is Kermit the Frog GREEN. If you saw a home like that, you'd probably think that it would need some work (maybe a MAJOR overhaul!). You'd probably be less than inclined to pay asking prices too. A clean, well maintained home, is a valuable home.