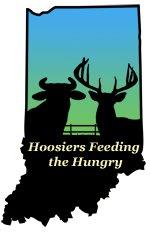 We support Hoosiers Feeding the Hungry. We find them to be an excellent program that supports those in our community, who are in need.
We have a program that will further help HFH. J.W. Services has decided to open a program to benefit HFH. For every dollar you donate on your invoice, we will match it up to ten dollars per invoice.
From HFH's website:
Protein is the number one nutrient and is fundamental in the development of the brain and body. Unfortunately, it is also the hardest commodity for food banks to get.

Hoosiers Feeding the Hungry is a nonprofit organization dedicated to making a positive impact on the quality of lives of people within Indiana by providing nutritious meat.

Hoosiers Feeding the Hungry encourages both hunters and farmers to donate large game, cattle, poultry and hogs. There are no charges or fees to the donor; they just take the livestock or wild game to one of our participating inspected butchers. The butcher will cut and package the meat into family size packages for distribution by local food banks and other food assistance organizations.
Check out HFH's website by clicking the logo at the top of the page or click here to go to the website.
We also support the Steuben County Humane Shelter.
Also supporting the Women's Care Center in Auburn.